Vijay must be on cloud-nine after winning IARA award – Best International Actor – for his noteworthy performance in Mersal. And he got much-needed consideration among the international audience. At least, it is evident by the reach or success of the first teaser of movie Sarkar. It received a massive attention among the netizens as it tolled one million viewers in just an hour. And totally it got more than 30 million viewership, which is quite an accomplishment.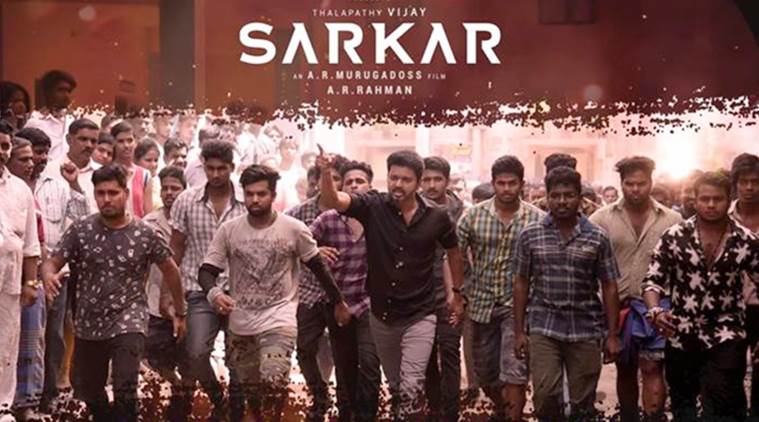 Sarkar - Movie review
Of course, Sarkar (teaser) proved to be a Diwali-worthy movie as it had all sort of commercial elements – high-octane stunts, peppy numbers, quirky punch-lines – which our filmmakers believe as the only attention-grabbing features to grasp the audience.
Alright, lets get into the details. This review is all about story, screenplay, performance and music.
What makes you stay seated?
Obviously, performance is the first choice. Vijay carried the movie on his shoulders and the story seemed to be worthy of it. He is an established corporate leader, who is sly and specialized on sabotaging a particular brand. He is calm, composed and communicates more with his attitude and expressions, unlike his other movies. The role is unique and the way he has done it is sophisticated and classic. But there are less whistle-worthy moments in the movie.
Oru viral puratchiye
is a nice and the only visual-enhancing moment with respect to music. The base-guitar is used well to the perfection and the placement is fitting; comes twice in the movie. Vivek Velmurugan's finely crafted lyrics are powerful and captivating.
Cinematography by Girish Gangadharan is another value addition in the movie. Each and every frame is well-planned and positioned. The shot where the protagonist gets down from the aircraft is one such example. It was a slow pan shot capturing the attitude, locale and thereby establishes the essence of the character in a single frame. In another shot, the protagonist after entering the party office faces the members with a grin look, his blazer was blown slightly from below. The shot captures the fuming corporate leader waiting for the moment to pounce on his opponent. Of course, it was Vijay who steals the show with his wonderful attitude in these shots but the positioning of camera and planning was neat. Kudos the cinematographer and his team.
Story is about an NRI (corporate leader), who is provoked after knowing that his vote has been cast by someone else and fights for it legally and then through people. It is a good positive story, where a successful businessman fights against worthless corrupt politicians through people.
Also the story creates a positive wave among the people about using their only powerful tool – voting – during election, mentioning the lesser known section in the conduct of election rules 49p.
What would have been better?
Screenplay and music must have been handled better. To make the story even more lively, most of the characters are named after the person living in our society. Starting from the protagonist himself, so many characters are named as such. It is an interesting way to connect with audience but the way it has been handled was boring and repetitive. It was no way inventive but just induce controversy. Nowadays, it has become a trend to use controversy as an effective tool to promote a movie. We do not have to get into that. Let us discuss the movie, instead.
The plot revolves around the central character, which obviously is our protagonist and every other things

–

settings, dialogues, subplot

–

is designed in a way to over-glorify him. We have seen such narratives in many movies in the past and also in recent times and most of them were boring and not well-appreciated among the audience even when there is a mass hero on the lead.
And it has become common in Murugadoss movies to see vox-pop of common people, which comes then and there. It must be authentic and critical but he uses blindly to praise the protagonist. Also the way of abusing something to gain its attention has become his style over the years. In 7aum arivu, he uses vox-pop as a tool to glorify negative shades of Tamil and Tamilians; and later tries to create an impact about the same. Remember the scene where a well-dressed gentleman compares Tamil with monkey, which shall be countered by Shruthi hassan. Do we really need such dialogues in a movie? Are we really considering our language as such?
Most importantly, is this the only way to create an impact. How about movies like pariyerum perumal and merku thodarchi malai. The genres are different but the way it has been written was straight forward and simple. I am sure most of the people must have left the theatre with heavy heart after watching these movies. There are more such movies in the list and you know it. We can even take his own movies like Kaththi and Thuppaki, where the concepts are vivid with simple narratives without any complication. And it reached mass and became a block-buster too.
One good thing about Murugadoss is capturing details. Even in 7aum arivu, the shot where the virus/disease spreads through dog is well-planned and captured well. In Thuppaki, the way the main villain finds the one who shot his brother is captured neatly. In Kaththi, the shot capturing the origin of Chennai's water supply to what happens when there is a scarcity in the city is beautifully planned and picturized. It was agonizing to mention here that no such things/elements are there in Sarkar. Details are missing or we can even say Murugadoss is missing!
And if you note in performance segment, only Vijay would have been mentioned. Because the movie is only about him. That by itself is the biggest flaw. There are many characters in the movie but non of them has been characterised well. Komalavalli (Varalakshmi) has a few moments but not up to the mark. Most of the characters has petty moments, which was of no use neither to the plot nor to capture the audience. Many good actors have rather undermining roles in this movie - Radharavi, Keerthi Suresh are a few examples.
Music by ARR is frustrating. It's unbelievable to see his name on the credits under the section Music direction. Neither does it adds value to the character not the story. It was blank, except for that Oru Viral song. But can you say the same thing for his last outing, Chekka Chivantha Vaanam? Maybe it's safe to say that ARR is used less in this movie.
Overall, Sarkar is more on performance and less on creating impact. It could be another movie that runs only because of Vijay not for anything else.
Sarkar - Movie Review
Reviewed by
Gowthama Rajavelu
on
11:41
Rating: